Samsung surprised us a few days ago with a new masterpiece. The foldable phone has been under discussion for a long time and the first teasers for such a development were released in November, but now it is within reach. The Samsung Galaxy Fold was officially presented at the Galaxy Unpacked event and will be released on April 26, 2019.
Foldable screens have long been a topic of conversation, and not just for Samsung. However, as the first provider on the market, it will become clear whether the market is ready for a combination of smartphone and tablet. Samsung does it very cleverly in marketing, her new Moonshot will be teased just right to make the press and me curious, but it leaves the touch of mystery behind, since no one can imagine the final product.
https://www.youtube.com/watch?v=7r_UgNcJtzQ
Galaxy Fold: Unveiling (Quelle: Samsung)
Galaxy Fold – the right size for every moment
The Galaxy Fold can, however, represent the next generation of smartphones and provide the user with the right display size for every occasion.
The front of the Samsung Galaxy Fold will be a 4.6-inch HD display, but if you unfold the phone, you'll have 7.3-inch for better work or movies. The so-called Infinity Flex Display transforms the phone from a smartphone into a tablet.
According to the first information, the Galaxy Fold will be available in four colors. The price is $1,980 (approx. 2,000 euros).
Innovation Profile: Samsung Galaxy Fold
The Samsung Galaxy Fold is a premium device, which is clearly reflected in its placement and price. The foldable mobile phone is currently unique on the market. The really impressive thing about the technology is that the large display picks up exactly where you left off. If, for example, you scroll through a page in smartphone size and discover a video, you can simply open the phone and watch the film seamlessly.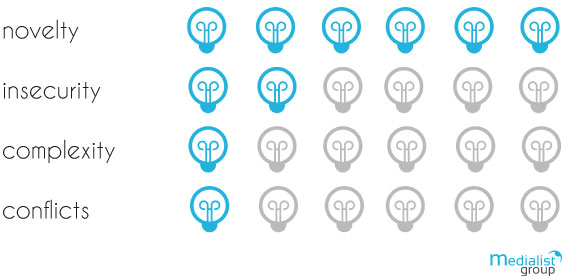 The Novelty of the Samsung Galaxy is the first on the market to be set very high. This is a real Moonshot of the company, which will show if foldable phones will be a success. The insecurity however is to be settled in the midfield. This does not result from the technical usability, but from the concern of a perhaps too thick and bulky design, which could influence the usability.
The complexity of the device seems to be very low. The usability of what you have been able to see so far is simple and intuitive. Even though it is a completely new way of using the device, I predict there will be few conflicts.
Conclusion: The Samsung Galaxy Fold is a step in the right direction. It will contribute to an innovation in the mobile phone market and clear the way for completely new apps.
Post Picture: Samsung